YOUBITE is a German family business located in Camarillo, California that produces delicious German sausages.
Here's an interview with Carina&David about their origins: Interview
Read what we're all about right here or check out the article in the newspapers:
Article in the Camarillo Acorn.
The Family Behind YOUBITE:
Originally Heinz and Carmen were farmers in Germany. They always had a knack for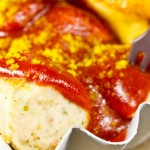 producing delicious meat products and sausages. They produced turkey sausages and delivered their products to restaurants, hotels, flight kitchens and many more establishments.
Based on that experience, Heinz and Carmen decided to open up a similar business in the United States. Their daughter Carina and her husband David (both born and raised in Germany) were eager to participate in this exciting adventure of opening up a business in California. So they started YOUBITE in Camarillo. Both Carina and David had been working in the food industry for a long time. Carina had been working with her parents and worked in deli shops. David's parents own a catering company in Germany for which he worked whenever they needed extra help.
By growing up on sausages left and right they had their own recipes and brought those AND the German machinery needed for proper sausage production from Germany.
Now they are committed to serve the wider area around Camarillo as well as online shoppers with their products. You can also find them on Farmers Markets in Ventura County and you can visit them in their shop as well.
YOUBITE's products range from delicious fresh Bratwursts over smoked products like Franks or Rheinlaender to specialties like baked bologna, Leberkaese or Merguez. Seasonal specialties extend the product range with refreshing and tasty ideas from time to time.
The YOUBITE Quality:
All of the YOUBITE products are handcrafted in Camarillo. The sausages are made like they were back in the old days. If you know the "taste of Germany" you will find it right here.
Our goal at YOUBITE is to provide excellent quality paired with an overwhelming taste that brings out all the rich flavors associated with juicy, mouthwatering sausages.
Give it a go and try our products, German and International specialties and so much more!
If you have any questions, feel free to contact us at YOUBITE at any time!
Please also check out the Facebook page